There is a known issue with wrong compensating. Workaround: Turn off all other controllers.
Download the driver
Copy the contents into \Steam\SteamApps\common\SteamVR\drivers (all folders and files!)
Just to check: The .dll should now be located at \Steam\SteamApps\common\SteamVR\drivers\motionPose\bin\win64
Start SteamVR. When successful, there should appear a new icon: 'T' as shown below

Note: If you are unfamiliar with Mover, this driver might not be for you! You have to setup your whole simulator in Mover and also use Mover as your motion cuing software.
¶ Mover version 3.4.0 and up
Visit FlyPTs site for more information:
https://www.flyptmover.com/outputs/ovrmc
Create a new MMF Output in Mover.
Configure it as shown below: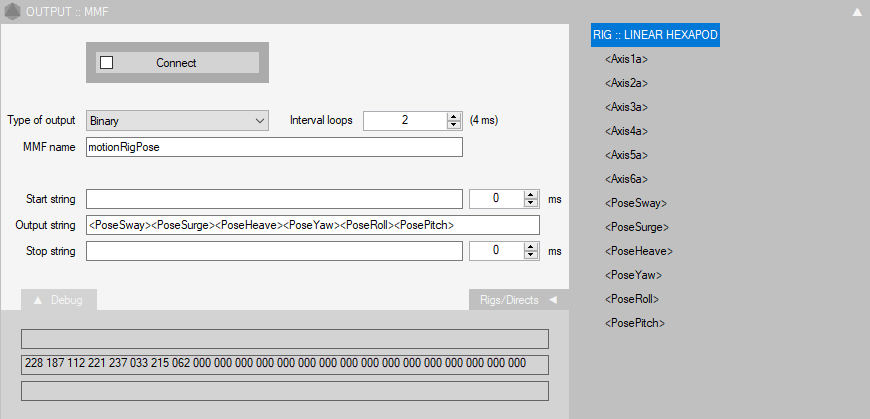 Insert the Output string by drag & drop, or just simply copy this over:
<PoseSway><PoseSurge><PoseHeave><PoseYaw><PoseRoll><PosePitch>
Now connect the output. Within SteamVR and with the dashboard open, you will see a three-colored cross. This represents the center of your simulator. The blue arrow (z or surge) should point to you, the green (heave) up and the red (sway) to the right. Move and rotate it (Yaw only) until it sits in your simulator's center of rotation. The closer, the better the result will be.
Open up the OVRMC UI and use the "Offset for virtual Driver" (you find it under the page "Settings") input to adjust the position. Tip: You can press and hold the + - buttons.
The position will be saved, so you only need to do this once.
If Mover is not active and connected, you will not see the virtual tracker in VR!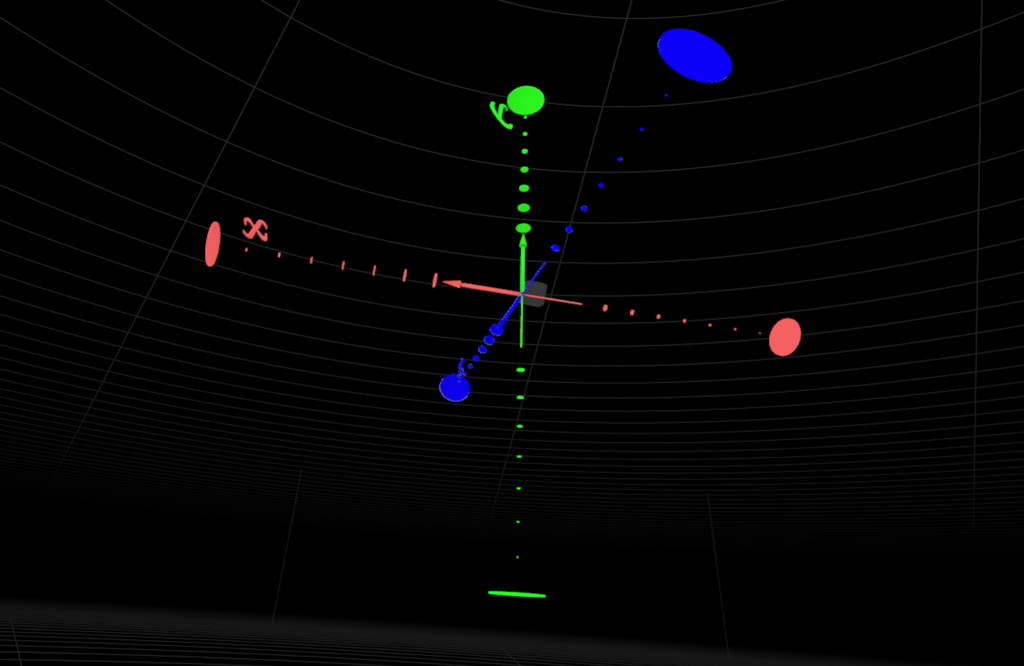 Source is available at GitHub:
https://github.com/Dschadu/motionPose
Date: 16.11.2020
Updated to latest SteamVR version 1.14.15
Fixed logging
Date: 10.08.2020
Added some exception handling to prevent SteamVR from disabling the add-on
Date: 08.08.2020